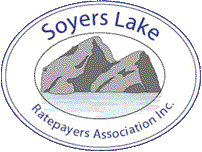 Last updated - October 23, 2014
Pictures from the 2014 Nine & Dine Golf event were added in the PHOTOS area and below.

---
Soyers Lake Photo Contest
We know that our members take lots of photos every year at their homes and cottages. This year we are holding a photo competition for all of you eager photographers.

Just submit your best photos to info@soyerslake.ca and we will judge the photos after the fall newsletter and announce the winners in our spring 2015 newsletter.

There will be a prize!



---
Current Soyers Lake News
Soyers Lake Summer 2014 Newsletter

(Added August 5, 2014)

Major Tax Increases due to OPP Funding

(Updated April 22, 2014)

Minden Hills Passes New Noise By-Law

(Added October 21, 2013)

Septic System Video

(Added July 7, 2013)

Changes to the Trent Severn Waterway

(Added February 9, 2013)

Soyers Lake Donates to HHHSF

(Added November 14, 2012)

Shoreline Tree Preservation By-Law

(Added November 14, 2012)

Low Impact Lake Recreation

(Added March 23, 2012)

The Importance of Calcium in our Lakes

(Added March 23, 2012)

It's All About the Water

(Added January 29, 2012)

As the Temperature Rises

(Added July 24, 2011)

Informational Cottage Posters

(Added June 16, 2011)

New SWAP SHOP area on this Website

(Added November 3, 2010)

New Members Only Features on this Website

(Added August 9, 2010)



Area News
---
Soyers Lake Activities Calendar - 2014
Annual General Meeting - Saturday July 5, 2014
The 2014 Annual General Meeting was held at the Haliburton Highlands Outdoors Association Fish Hatchery on Saturday July 5.


Soyers Lake Bass Derby
The annual Bass Fishing Derby finished at the corn roast this year. There were 5 entries in total with Wyatt Small and Mikey Moffat winning.

Soyers Lake Golf Get Together - Saturday July 19, 2014
The 2014 NINE and DINE was held on Saturday July 19 at the Blairhampton Golf Club.


Fun Sail - Saturday August 2, 2014
The 2014 Fun Sail was held on Saturday August 2, 2014.


Corn Roast - Saturday August 16, 2014
Due to the inclement weather, the Corn Roast was held at the Fish Hatchery on Gelert Road. Despite the weather the turnout was great and everyone had a good time!


---
Pictures from 2013 Events
// *** BANNER ADs ***